Today's Dairy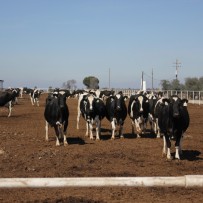 "Keep on keepin' on..", as Ben likes to say.
We now milk around 3,000 beautiful Holstein cows and raise all of our own young stock. We also farm 1,100 acres of cropland consisting of alfalfa, corn and wheat, solely to provide feed for our animals. We ship our milk to Land O'Lakes cooperative. Be sure to buy that Land O'Lakes butter next time you're in the grocery store!
Ben Curti is the third generation on the family farm. He has three daughters and three grandchildren that can continue on the family farm.